Best courses for Summer and Vocational Training in Delhi
If you are looking for summer/vocational training in Delhi then you are at right place. We at Sanjay Web Designer provides best summer internship as well as summer training for all students.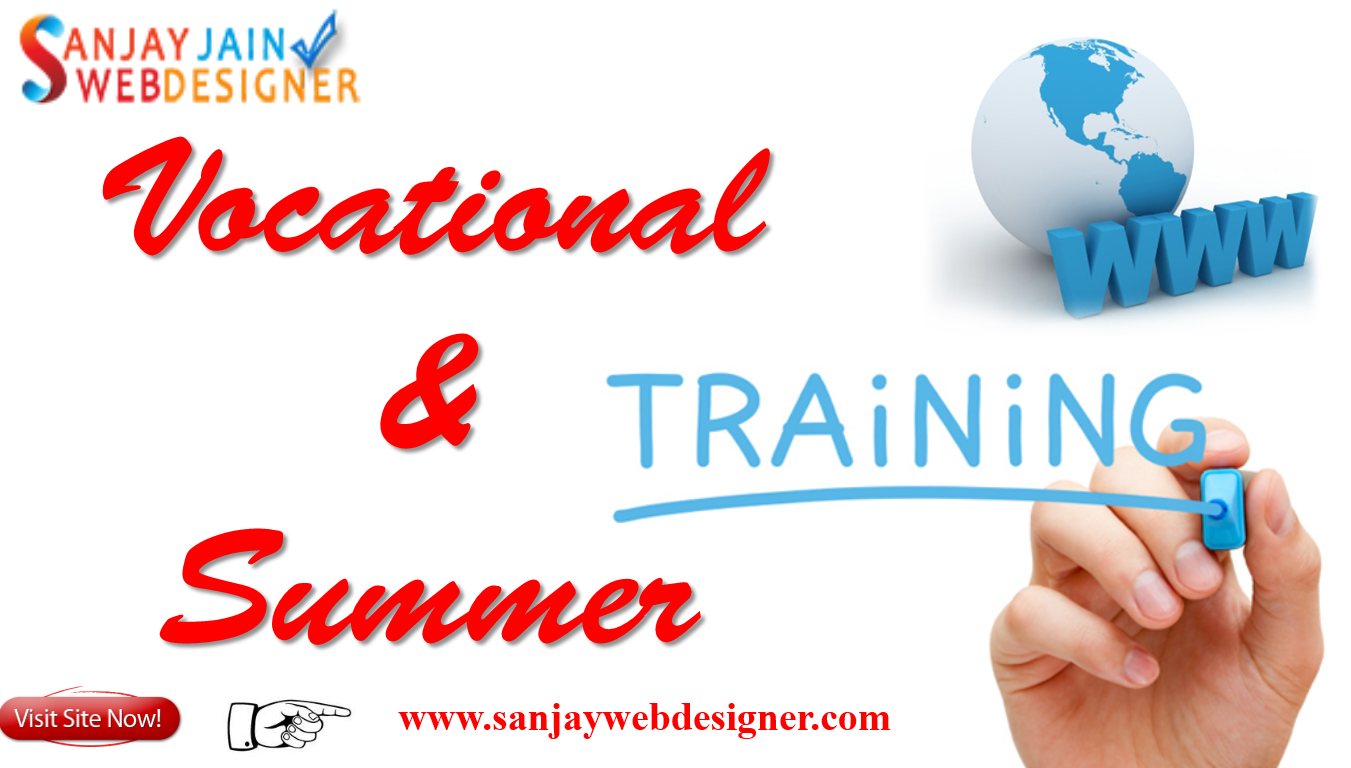 Here I am going to share some list of student for the people who can join this course or summer training:-
-->> B. Tech.
-->> BCA
-->> BBA
-->> B. Sc. IT
-->> M. Tech.
-->> M.C. A. .......... and so on.
If you are really interested in doing
summer training or vocational training
for any of this course then you should join our institute. Today in this post i am going to share some of the summer training course list that you can complete from our institute so let me explain one by one:-
Web Designing Course as summer training in Delhi:-
If you are looking for
web designing course
and want to move your career in web designing then you can join or vocational and summer training from
our institute.
We at
sanjay web designer
provides best summer training for the Student of Gurgaon, Noida, Ghaziabad and Delhi NCR. Student who have completed summer vocational training from our web design course now doing great job in various company. No matter if you are looking your bright career or if you want to do job in any company we provide best guidance and full on support to our student. In website designing course we will teach how to design a good-looking page along with the knowledge of
corel draw
and
photoshop.
Graphic Designing as summer training in Delhi:-
If you want to move your career in
graphic designing
then in this course we provide best knowledge of graphic designing by which a person can design good looking logo, brochure, flyer, templates, cover page and so on. In Vocational training, we will teach you on different software application like
Adobe Dreamweaver
, Photoshop Coreldraw, Illustrator and so on. We have the list of real life project from where you can learn a lot and you can also design your personal images as well as logos. Students who have completed
vocational training from Delhi institute
are now working in various company.
SEO course as a Vocational Training in Delhi:-
If you are not aware about
SEO
 then
check out this resent post
. Let me explain something about search engine optimization. This is a process by which one can optimize his website. As you know creating or designing a website is not a difficult task but the main and most important thing is that to promote that and
increase website traffic
. With the help of search engine optimization you can increase your keyword visibility in various search engines. So if you really want to make your career in search engine optimization as the digital marketing executive then you can apply for this vocational training. Most of our students are now working with various companies, trust us you wouldn't regret after doing vocational training of search engine optimization. If you are in Noida, Delhi, Ghaziabad, Gurgaon or nearby city then I would recommend you to join this
course
as soon as possible because from mid of this month we are going to start a full-fledged batch of search engine optimization. In this c
ourse you will learn SEO
 onpage and offpage optimization along with the knowledge of Google analytic and webmaster. You will also learn how to do work with different project and how to do work on different website. We are also into
Search engine optimization services
program where we take various search engine optimization services so you need not to worry about real project training with 
sanjay web designer.
Vocational/Summer Training of Digital Marketing
If you are using Facebook or what's up then you should know about digital marketing. Digital Marketing means promoting of any product through social media or online activity. This is best and evergreen vocational training program for the person who are looking for a great career in this field. We at Sanjay Web Designer provides full fledged digital marketing program in this vocational training where we teach how to promote your content with the help of online and social media channels. Now-a-days scope and need of digital marketing is increasing day by day because of its Youth popularity and increasing of e-commerce website. This program will also let you know how to create a website. If you really want to take or vocational training program of digital marketing then you can contact us by feeling this enquiry form.
PHP as a Vocational and Summer Training:-
If you are studying in B. Tech third year or seventh semester then you can join
php vocational training.
This course training is also designed for BCA and B. Sc. IT. If you want to create a website and link your website with database then you can join this course. With the help of this course one can increase his knowledge in the domain of database, MySQL, WordPress, Joomla and so on. Those who are not aware about
PHP 
let me explain
PHP
 is very easy language in which you can developed any website. You will learn how to create a website in which you can create numerous of website including resume up-loader to browse any page. The students who have completed vocational training of PHP are now working somewhere and getting huge packages.
Vocational training
is now very important for all the aspirants of B. Tech., BCA and B. Sc. IT but this also matters somewhere that how much you have knowledge in particular domain. Join this course as soon as possible as we are going to launch our first batch in the mid of this month. If you are thinking to join this course then you may 
contact us by filling this form
, within 24 hours our representative will get back to you. If you have any questions or any doubt regarding our vocational training in Delhi, Gurgaon, Noida, Ghaziabad or anywhere then you can contact us by calling me on my mobile number
9212189563
and surely I will get back to you.